What's been happening at IPI?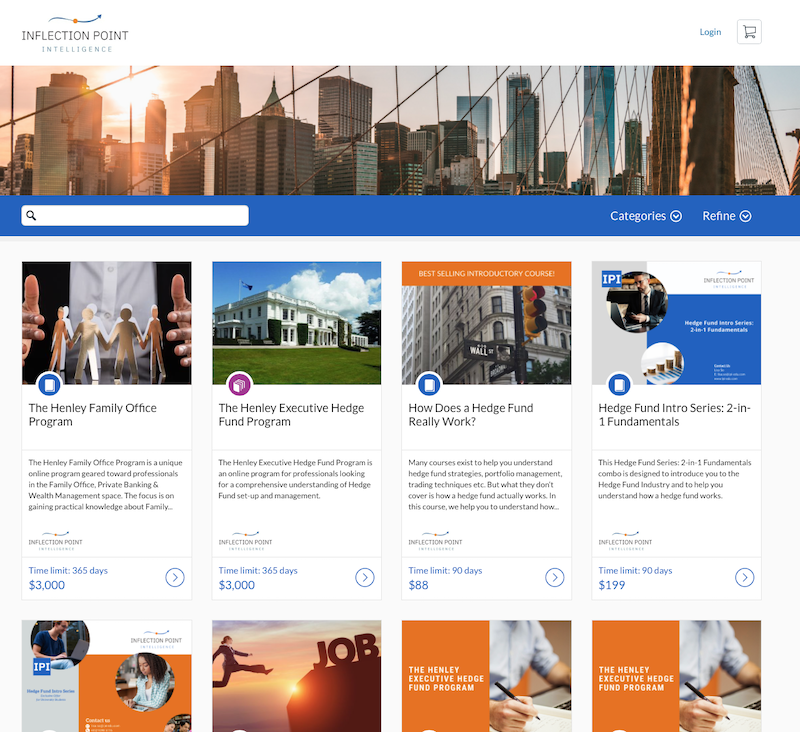 ---
It's been a while since we gave a product update on our blog pages, so here's a catch-up edition as we head towards the end of 2022.
Over the course of this year, we've seen an evolution in the way companies are using our educational resources. Historically, a firm would pay for its employees to join the Henley Executive Hedge Fund Program (our hedge fund certification course) or the Henley Family Office Program (our family office executive education program). The company's employees would register for the public version of the program and take the modules in the set order, gaining their Certificate of Completion from Henley Business School upon successful completion of all the knowledge checks.
In recent months, however, we've seen a change in the way institutions use our programs. We are now able to create individual, private, online education hubs which contain all of our modules and courses. Each institution can customize its hub – for example, by adding its logo to the home page, or by adding an introductory video by an executive, to highlight the investment the company is making in its staff. They can also add in-house documents to specific modules, to tie the program to their own policies, processes and practices. Once that's done, they can give their staff and/or clients access in whatever way they would like – mandatory completion of the hedge fund certification course or the family office education program for example, or just optional access to one or many of the individual modules.
Here are some real-life use cases:
1) A regional asset management company is putting its employees through a private version of the Henley Executive Hedge Fund Program (HEHFP). They have recorded a short intro video from the CEO and have added our short course How Does a Hedge Fund Really Work (HDAHFRW) as an introductory module for people new to the hedge fund industry. They are putting the employees through as a cohort, with set dates to complete each module. They are also organising in-person sessions to supplement the materials with their own expertise. That approach can get excellent results for both learning and cultural cohesion and team bonding, but it does require management effort to drive it through.
2) A global brokerage firm has subscribed to our whole catalogue - the modules of the HEHFP plus the Henley Family Office Program (HFOP) plus HDAHFRW and new modules that we are developing. Rather than making the staff take the Hedge Fund Course or the Family Office Program in their entirety, they are leaving it up to individuals to select their own modules. Some employees have taken the whole program and gained a Henley Business School Certificate of Completion, others are just dipping in and out. This way has the lightest corporate touch and relies on employees' initiative to get the most out of it - a bit like a corporate gym membership benefit.
3) A supranational not-for-profit fund is tailoring the HEHFP and making just some of the modules mandatory for its core staff, with the rest of the modules remaining optional for core and other staff. We are also creating some in-person webinar events for them, tailored to their specific learning needs.
4) The UK branch of a global hedge fund put its summer interns through HDAHFRW and the first module of the HEHFP this summer.
5) A global hedge fund asked us to do an afternoon's in-person teaching on "What is a Hedge Fund?", for their non-investment staff including technologists, HR staff, PAs and even receptionists. We included a fireside chat with a senior portfolio manager to answer questions about their firm. The presentation was simultaneously shown in Hong Kong, Singapore, Tokyo and London. Where possible, we had a team member in the room to answer local questions. This approach to educating the non-investment staff was extremely well-received, and we believe that educating the whole workforce can really contribute to gaining Operation Alpha.
6) We are working on a project where a global hedge fund will sponsor professional women working in finance to take the HEHFP, with a view to recruiting some of them afterwards.   
7) We are discussing with a top-tier global private bank to white-label the HFOP for their clients, in order to get the clients up-to-speed on family offices and make their interactions more efficient. We are also beginning a discussion with another top-tier private bank about providing the HFOP for their Next Gen clients, as there are very few family office education programs available to introduce them to the world of family offices.
8) Some clients use our webinars as business development tools. The library of webinars is normally available only to members of the IPI Professional Network, however, we can grant access to potential clients of our clients.
So as you can see, we can be very flexible in helping institutions with our educational solutions!
As we look towards 2023, we are planning a series of new shorter courses on specific topics, under our "IPI Pro" brand. As they are produced, these will be made available to clients subscribing to the whole catalogue, and they will also be available for individual or bulk purchase through our catalogue website - https://www.ipi-edu-catalog.com. Our initial themes will be around Wealth Management topics – the first is a much-requested course on "Structuring a Family Office in Singapore".
And lastly - check out our Photo Gallery to see the pictures from our latest Networking Cocktails. It's so good to be back to doing in-person events in Hong Kong!
For further information, please contact Lisa So at lisa.so@ipi-edu.com.